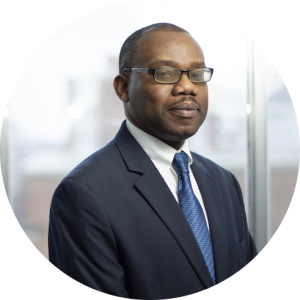 In 2002 Mr. Thomas graduated from the Howard University School of Law and Graduate School of Business's joint degree program, where he earned joint J.D./M.B.A. degrees (with an M.B.A. Finance Concentration). In 1995 Mr. Thomas graduated Summa Cum Laude, with Highest Honors, from Alabama A&M University in Normal, Alabama where he obtained his Bachelor of Technical Studies (B.T.S.) degree in Accounting. In 1990, Mr. Thomas obtained his Associate degree in Accounting from J. F. Drake State Technical College in Huntsville, Alabama, where he graduated Summa Cum Laude, with Highest Honors.
Prior to joining Holloway & Norman Law Group, Mr. Thomas practiced Bankruptcy, Business, Corporate, Immigration, Non-profit, Tax law and Workers' Compensation at the Law Firm of Patrick Henry LLP and Mondesir Norman & Turner PLLC.  Before joining Mondesir Norman & Turner PLLC, Mr. Thomas also practiced Tax Law, Estate Planning, and Business Litigation at DeCaro & Howell, P.C. and the Law Offices of Bruce A. Johnson, Jr., LLC.
Mr. Thomas is a member of the Bar of the State of Maryland and is licensed to practice before the state and federal courts within the jurisdiction of Maryland, in addition to the Maryland Workers' Compensation Commission. Mr. Thomas is also admitted to practice before the U.S. Tax Court. Mr. Thomas is a member of the American Bar Association, the Montgomery County Bar Association, the Prince George's County Bar Association, and the Association of Trial Lawyers of America. Mr. Thomas is an active member of his church's Religious Liberty Department, as well as other social and civic organizations.
Mr. Thomas handles general business matters including formation, sale, and dissolution of businesses, business litigation, bankruptcy, corporate transactions, trademark and copyright law, probate, and immigration matters.