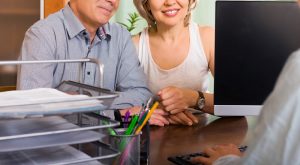 At the Holloway and Norman Law Group we understand that probate and will procedures are complex and that you will need an experienced attorney to navigate you through these proceedings during difficult times. Probate, by definition, is the process of determining the rights and obligations of a person's legal and financial matters after their death. Probate serves as a way to transfer assets, resolve debts and clear titles so the decedent's assets can be properly allocated to the rightful heirs. It can be a complicated and time-consuming process. Typically, for estates larger than $100,000, court supervision may be required to oversee the process and approve distributions.
The distribution to beneficiaries or rightful heirs will follow the decedent's Will, or, if no Will exists, distribution will follow the state-relevant intestate laws.
Whatever your circumstances the attorneys at the Holloway and Norman Law Group will provide you with legal guidance and assistance in selecting the best method of handling your probate matters. We have extensive experience with probate and estate planning for families and individuals.  The firm's attorneys have a thorough understanding of the intricate nature of the Maryland and Washington, DC law and the skill only decades of experience can bring to adeptly handling complex probate administration and litigation matters.  Our services are centered around family values.
We assist clients with a variety of services, including: